There are 100 + pages to this website.

The Goldy Family of South Jersey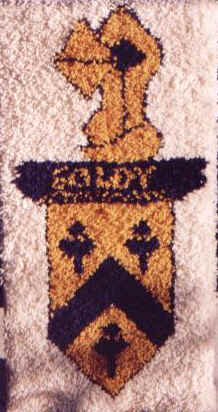 Goldy Coat of Arms

The Goldy Family of South Jersey

s

tarted with a Samuel Goldy who died in 1725.

The first concrete evidence we have of the Goldy Family of South Jersey is the 1st month, 29th day in 1707. Deed, Samuel Gooldy and wife Elizabeth, who was formerly wife of Eleazer Fenton, deceased of Springfield Township, yeoman to Thomas Branson of Springfield Township, yeoman.

Whereas so Eleazer Fenton by will of 16th day, 12th month in 1702, proved 24th day of 7th month 1704, bequests to wife Elizabeth right to sell 300 acres near Thomas Douglass plantation, bought be me of John Ogborne Jr, 13th day, 1st month 1699 and which John Ogborne bought of George Hutchenson of Burlington deceased as per deed dated 22nd day, 1st month 1694. (records are at the New Jersey Archives Library in Trenton).

We will take you to several pages of information, at which several of us have gathered for over 20 years. And we are still gathering information and probably always will be. The only way to describe this Goldy Family of ours is that it's like the energizer bunny, just keeps going and going.

One of the best things about researching the family tree is putting our jigsaw puzzle together. For instance Denise found an Ann Goldy who died 1819, wife of William, buried at the Pemberton Baptist Cemetery along with other Goldy's. Do we know who she is? Do we know who he is? At this moment, No. Will we figure it out? Of course we will. And that's where our lucky fairies come in. They seem to help out my cousin Denise and me when we really need it.

We can't leave out another cousin, Trudy, who has been more than helpful throughout the years.

And Jim, another cousin,who kept me searching, Thank you!

There is so much information in our possessions, we will publish as much as we can If you have any information, copies of documents and or pictures you would like to share, please don't hesitate to contact us. We are also interested in extended families. After all, that's what makes a tree bloom even more.

Originally we were of the MacFarlane Clan, in Scotland. We were oust for horse thievery and became members of the MacPherson Clan.

In memory of (my) Uncle Jimmy, who gave me the original eight pages of our direct line back in the early eighties. And for showing me how "to see".

Cousin DonnaMarie and Denise

God Bless America



This website by all means will never complete. So much information. Thanks for your patience.

Thanks Joel