Rebecca Keturah Goldy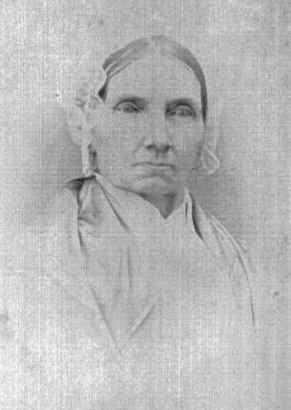 6 September 1792-10 February 1868

of William Corlies Goldy 1767-1851 and Lettis Jenkins 1770-1816.


Died of consumption.
Her record of death was found in Vol. AL page 288, her mothers name spelled Letta and her
death cert. claims she was single
DEATH: from the NJ State Archives a Return of Death (not a copy) says death record is in
Vol. AL, page 288
DEATH: Twp. of Manuta, Gloucester County, Died in Clarksboro and born in Mt Holly.
NJA gives her age at death at 70,putting her birth in 1798. 1850 census confirms 1792 date
of birth. Perhaps, a 6 looked like a 0. (she would have been 76)


Married
Isaac Tomlinson Haines

30 October 1788-26 - September 1857.

of Jeremiah Haines 1766-1825 and Ann Tomlinson b 1768


They had:

Ann 1812
Amos 1815
Hannah Ann 1817
Keziah 1825 married Benjamin T Haines
Samuel Goldy 1827-1881 married Rachel N Iredell 1831-1917
Jeremiah 1829
William Goldy 1835


Samuel Goldy Haines and Rachel N Iredell Haines
1870 U.S. Federal Census New Jersey,
Gloucester, Mantua
Haines, Samuel, 63 M W Farmer, 7000/1000 born NJ [age should read 43]
Haines, Rachel, 39 F W Keeping House NJ
Haines, Jeremiah, 14 M W NJ
Haines, Mary, 13 F W NJ
Haines, Elisabeth, 9 F W NJ
Haines, Beulah, 7 F W NJ
Haines, Chalkey, 5 M W NJ
Iredell, Samuel, 30 M W NJ
Haines, Priscilla, 62 F W NJ
Woodward, Shelton 19 M W Working on farm NJ
1880 U.S. Federal Census New Jersey,
Gloucester, Mantua District 98
HAINES, Samuel G, W M 53 Farmer Cancer NJ NJ NJ
--, Rachel A., W F 47 wife, NJ NJ NJ
--, Mary, W F 22, daughter NJ
--, Elizabeth, W F 19, daughter NJ
--, Chalkey W M 15 son NJ
--, Bertha W F 9 daughter NJ
--, Walter W M 6 son NJ

Haines Pork Shop
521 Kings Highway Mickleton, New Jersey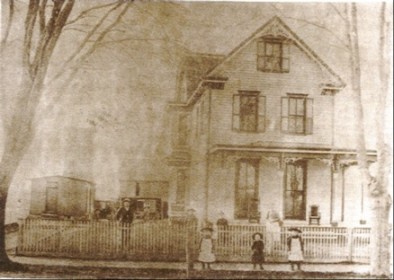 For more info on the Haines Pork Shop please go to
http://www.jwbrown-home.com/EG/porkshop.htm






Rachel N (Iredell) Haines, and Samuel Goldy Haines, settled here in 1865 and had the home built at 516 Kings Highway.
With her she brought a secret recipe for pork sausage and a great deal of know-how about
pork butchering. Her son, Jeremiah Haines, set up a pork business across the street. He
also had a store at 826 South 2nd Street in Philadelphia. Her son, T. Edgar Haines carried
on the business.

Today Rachel Haines'
great-great-grandson, Jerry runs the family business. His son-in-law, Harry Sheldon works
in the shop, so the future of the business will remain in the family.


Isaac Tomlinson Haines and Rebecca Keturah Goldy

Jeremiah Haines 1766-1825 and Ann Tomlinson b: 1768

Amos Haines 1729-1805 and Mary Conrow b: 1741

Nathan Haines 1702-1751 and Sarah Austin b: 1704

William Haines 1672-1754 and Sarah Paine 1678-1728

Richard Haines abt 1636-1681 and Margaret 1649-1696


Richard Haines of Aynhoe, Northamptonshire, England, husbandman, with his wife Margaret and their
children, Richard, William, Thomas and Mary, sailed from Downs, England in 1682, on the
ship "Amity", for America, but Richard never reached the shores of this country,
haven sickened and died on the voyage. A fifth son, Joseph, was born aboard the ship.
John, the eldest son, had come over to America two years before his family and lived in a
cave in Haines Bank, below Lumberton, New Jersey on the south bank of the
Rancocas Creek. The family settled in Burlington, New Jersey and in 1685 the widow
Margaret married a second husband, Henry Bircham, of Nesamony, Pennsylvania. Thus it is
that because of the death of Richard Haines in mid ocean we have no record of him in this
country. He was a member of the society of Friends. By his wife Margaret he had seven
children, none of whom were born in America.

Richard and Margaret Haines' children are:

John abt: 1663-1728 married Ester Borton 1667-1719

Richard 1665-1681 married Mary Carlisle 1674-1744, a Native American

Thomas 1666-1753 married Elizabeth Austin b: abt 1669

* Their daughter Deborah 1703-1749, was the widow of Paul Troth, who married 2nd husband William Goldy
1716-1751, and had Samuel Goldy 1742-1819.


William 1672-1754 married Sarah Paine 1678-1728

Mary 1676

Margaret abt: 1678

Joseph 1681-1746 married Elizabeth Thomas 1696-1796


John Haines b: 1614 and Elizabeth Stanford b: 1619