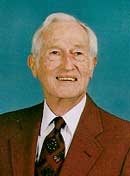 Rev. Champion B. Goldy
Minister of Visitation

A graduate of Drew Seminary, Rev. Goldy has had a long career of pastoring churches in the Southern Conference and been a District Superintendent. He visits our members unable to attend church, as well as members in hospitals and nursing homes. He counsels the elderly and their families regarding retirement homes and nursing facilities. Champ frequently participates in National Senior Sports Classics and usually claims a gold medal or two.


Athletes to Compete at USA Masters Indoor Track & Field Championships
March 23, 2004

Courtesy of USATF
BOSTON, MASS. - More than 800 athletes, ranging from age 30 to 100 and from all walks of life, will compete this Friday through Sunday, March 26-28, at the USA Masters Indoor Track & Field Championships.
Held at the Reggie Lewis Track & Athletic Center at Boston's Roxbury Community College and hosted by the USA Track & Field New England Association, the meet will include a wide array of competitors, including five-time NFL Pro Bowler Todd Christiansen, a world sailing champion (Phil Byrne), an inventor of the inflatable dome (Desmond Margetson), the star of Nike running ads in 2003 (Kathy Martin), a kidney donor (Maryanne Torrellas), and several Olympians, among hundreds of others. (See below for athlete profiles).
Typically the site of numerous records each year, the 2003 edition of the Masters Indoor Championships saw 14 world and 38 American records fall in five-year age groups from 35-39 to 85- 89. "The track is recognized as lightning-fast and top quality, conducive to world and national records," said meet director Steve Vaitones.
Competition begins Friday, with the first final event, the 3,000 meters, scheduled for 4 p.m. Competition continues Saturday and Sunday, with events - including sprints, relays, distance races, race walk, hurdles and field events - beginning at 10 a.m.
Admission to the meet is free. For more information, visit www.usatf.org
Athlete profiles:
Champion Goldy (Haddonfield, N.J.) - The 87-yr-old reverend is still very active in church, as well as on the track. He holds men's 85-89-year-old record in the 60 and 200 meters. He will compete in both races in Boston, as well as the shot put.

Senior Olympics 2003
2003 Summer National Senior Games Results
Posted
Monday, June 2, 2003
Track and Field Finals
Men's 200 (85-89)
Gold: Champion Goldy (NJ) 41.39M
Silver: Maxwell Springer (TN) 45.88
Bronze: John Boesenhofer (OH) 48.75
Men's Discus (85-89)
Gold: Bruce McDonald (MO) 23.96M
Silver: Champion Goldy (NJ) 20.97M
Bronze: Roy Clark (AZ) 19.43M
Men's Javelin (85-89)
Gold: Bruce McDonald (MO) 26.76M
Silver: Champion Goldy (NJ) 21.57M
Bronze: Charles Irwin (MD) 17.30M

Records set at the USATF National
Ma
sters Indoor T&F Championship
Reggie Lewis Facility,
Boston
MA
Ma
rch 22-24, 2002
US Records
59


World Records

32
--- M85 ---

M85

60

10.72

Champion Goldy

US

M85

200

39.75

Champion Goldy

US

M85

High Jump

1.07m

Leland McPhie

US, World

M85

Weight

7.96m

Leland McPhie

US

M85

Triple Jump

6.31m

Clarence Trahan

US, World

1999 TOP MASTERS
TRACK & FIELD TOP PERFORMANCES

1999 Masters Track results world-wide (men's track: indoor & outdoor, age 30 and up).
M80 100 Meter Run (WR 14.35)

14.8 Payton Jordan (W.Aided)
15.16 Roderick Parker
15.56 Ugo Sansonetti (ITA)
15.64 Payton Jordan
15.74 Milt Silverstein
15.77 William Weinacht
16.10 Daniel Bulkley
16.17 Fritz Assmy (GER)
16.28 Ed Carter
16.36 Champion Goldy
16.77 John Anoka
16.7 Aate Lehtimaki (FIN)
16.85 Herbert Liedtke (SWE)
16.9 Bill Morales
17.03 Fritz Muhle (GER)
17.22 Richard Leach
17.42 Walter Frommelt (GER)
17.46 Dharambir Sharma (IND)
17.53 Clarence Trahan
17.69 Alfred Dassanaike (SRI)
17.69 Nat Heard