Thanks goes to my cousin Jim, for getting me this information.
And to my cousin Bruce for the bottom link (now if I can get a pix of him in his kilt)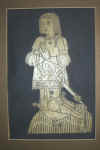 Thomas Golde d. 1525 Crewkerne, Somerset
Almost all that is known about Thomas Golde is recorded in the inscription, omitted from the facsimile:"(Pray for the soule of) Thomas Golde esquire which deceased the xiij day of September yere of our Lord MIVcxxv(1525) (on whose soule Jhsu have mercy.)" The words in brackets were defaced later, perhaps to save the monument from destruction at the Reformation. He was aged 20 when his father died in 1502 and is named on the Pardon Roll for 1509-10 as one of the feoffees, or trustees for lands, of William Speke, late of Crewkerne. It is probable that the latter was related to Sir George Speke (No. 4), but the pedigree of the family is not fully known. Towards the end of his life Thomas Golde, with Sir George Speke, was caught up in the preliminaries of one of the Tudor state trials. Both were members of the Grand Jury at Bedminster for in indictment of Edward (Stafford) Duke of Buckingham who was condemned by Act of Parliament and executed later that year.
The brass has been relaid and, unfortunately, no record of the original slab seems to be known. Kneeling effigies are most frequently found with the effigy of the wife facing husband with the object of their prayers above. However, the use of a single kneeling figure on a brass is know from a will of 1477 and so this may have been the case here. The armour has some earlier characteristics, for example the sabatons (or shoes) have slightly pointed toes rather than the square of flared ones more common at this period. Only the left pauldron (or shoulder guard) has a raise edge or haute-piece to deflect blows from the joint between helmet and body armour. (comparison with the armours of Speke (No. 4) and the Bures (No. 30) suggests that this may have been carelessness on the part of the engraver.)
The skirt of lames (sliding steel hoops below the breastplate) has not been finished and the tassets (curved plates protecting the upper thigh) appear to be hinged on the bottom of the breastplate. Because he is depicted facing left the details of the sword belt and dagger can be seen
http://www.houseofnames.com/xq/asp/s.MacPherson/MacPherson_family_Crest/MacPherson_coat_of_arms/qx/clanbadge_details.htm