I received an email through the website from Jan, a volunteer at Hospice of the Foothills in California.
She was wondering if I was related to Emanuel C. Goldy.
A donation was made and in that donation were papers, pictures, letter and a wallet that they were all in. All belonging to Emanuel.
What a blessing it is that someone cared enough to try and locate a relative of his.
Not sure how this all ended up in California. Though there are two possibilities.
I was told that "Uncle Emanuel had a trunk full of all his army items including his uniform".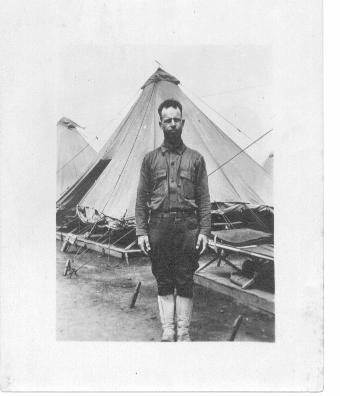 WW1 - 29th Blue and Gray Division
On 18 July 1917, National Guard units from Delaware, Maryland, New Jersey, Virginia and the District of Columbia were selected to form the 29th Division. Division concentrates and trains at Camp McClellan, AL, from 25 August 1917 - 25 May 1918. Movement overseas complete by 22 July 1918.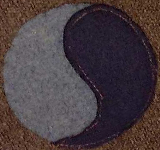 The divisional insignia is taken from the Korean symbol of good luck, and the personnel, partly from the north and partly from the south, was responsible for its name, the Blue and Gray Division, and for the colors of the insignia.
Everything that was found in his

On the back of this picture is written:

Garrick, Chestnut + Juniper

From his brother Sam

It starts with "Dear Brothers"

Sam apologizes for not writing sooner "as they were expecting them home all along but having heard you would not be home so soon as we expected"

Sam mentions that he just turned 22 and Martha bought him a nice smoking stand. She was also baking pies yesterday morning. Mentions Ruth's wedding and she married a nice man.Warns him about "the little French girl over there".

From a friend Mrs Anna Gross

Mentions that she had saw the beautiful handerchief he had sent his mother.

Mentions that his mother tells her to look out for Emanuel or he will bring home a French girl as his bride.

Mentions Ruth's weddig and that they all had a nice time and for him to come home and get married so they too could have a good time at his wedding.

And she writes that she had read how the 29th has been cited so much.

And lastly writes "that I hope this finds you and James well".
His Sister Ruth
| | | |
| --- | --- | --- |
| | | Ruth Goldy and her husband Gustave Hudson |
Unknown
| | | |
| --- | --- | --- |
| | Brothers James and Emanuel ? | |
| | | |
| | | |